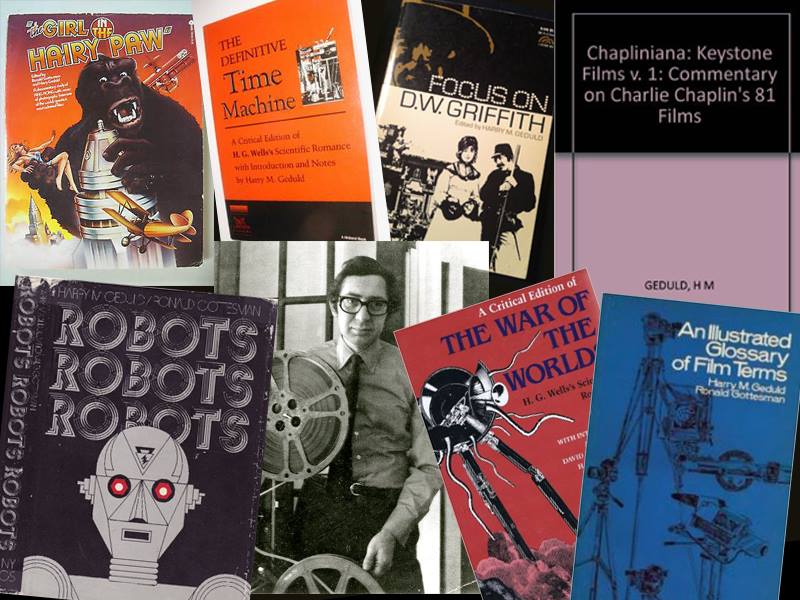 My father passed away a week ago. His life story will probably be of interest to Observation Deck readers because he was an expert on King Kong and H. G. Wells. Here is the obituary I wrote for him along with the eulogy I delivered.
Obituary
Harry Maurice Geduld, Professor Emeritus of Comparative Literature, West European Studies, and Film Studies at Indiana University passed away peacefully in his sleep last Sunday at the Morgantown Health Care Inn after a long battle with dementia.
He was born in London in 1931 to Ann and Sol Geduld and survived the Great Depression and the London Blitz. His family lost three houses in the war, but they all survived. Coming from working-class roots, his intelligence and drive got him into the prestigious Latymer Upper School, one of the top private high schools in the United Kingdom.
After finishing his undergraduate degree and Masters Degree at Sheffield University, Professor Geduld completed his (masters and) doctorate at the University of London in 1961 with a dissertation on Bernard Shaw.
In 1959, he first came to Bloomington as a Fulbright scholar and fell in love with America, emigrating for good (after he earned his doctorate) in 1962. He became an American Citizen after his first son was born and was fond of saying he was, "British by birth, American by choice."
In 1962, he joined the Indiana University faculty, eventually becoming chair of Comparative Literature from 1990 to 1996. He taught a wide range of courses on British, European, and American drama.
The creator, in 1964, of Indiana University's Film Studies Program and its first Director of Film Studies, Professor Geduld is also credited with having introduced sixteen undergraduate and three graduate film courses into the IU curriculum. He taught courses on Silent Cinema, Screenwriting, Film Genres, and such major figures as Griffith, Eisenstein, and Chaplin. In 1979 he was the recipient of Indiana University's Distinguished Teaching Award.
Professor Geduld published more than 30 books and numerous articles and reviews on literary and film topics, humorous and autobiographical short stories, limericks and essays. His publications include Chapliniana, Birth of the Talkies, The Girl in the Hairy Paw, Versicles and Worseicles, The Purim Spiel and The Definitive Time Machine.
His vast knowledge of film and filmmaking allowed him to lecture at the Sorbonne for the Charlie Chaplin Centenary celebration, have lunch with Fellini, and meet many Hollywood greats including Frank Capra, Myrna Loy and became a friend of the director Edward Dmytryk. Many of his students went on to work in the film industry, most notably the Academy Award-winning screenwriter, Bruce Joel Rubin. Rubin's first film, Brainstorm, was originally a screenplay written for a seminar Professor Geduld taught on screenwriting.
He was a devoted father, husband and son and is survived by his wife of 52 years, Carolyn Geduld, his sons Marcus and Daniel and his granddaughter, Violet.
Eulogy
My earliest memory involves my father. He's sitting next to a 16 mm movie projector on the kitchen table, projecting a movie on the living room wall. The living room is full of graduate students and they are all watching 2001: A Space Odyssey.
I'm glad that is my first memory, because I think of my father whenever I watch a movie. They were so important to him and because he loved them so much, my brother and I loved them too and still do. Many of my best memories of my father involve watching movies with him or even just listening to the music from them. He always had something to say about them, always made them more interesting to watch just by watching them with him.
And then there was music. His knowledge of classical music was vast, as was his knowledge of popular songs from the first half of the 20th century. Like his love of film, his love of that music was infectious. While all the other kids were growing up in the 80s listening to Duran Duran or Bon Jovi, I was listening to Stravinsky and Irving Berlin.
There were also the books. Our house was just filled with them. You couldn't find a place in our house without books. He read to me as a child regularly- we went through the Chronicles of Narnia at least twice, and he introduced me to some of my favorite authors even today- Mark Twain, H.G. Wells, Olaf Stapledon and Stephen Leacock.
I won't say he was the best father when it came to taking care of me- he wasn't the sort to play fetch in the yard or even Scrabble on the table, but he made sure I knew that he always loved me even if he couldn't really relate to someone that wasn't able to discuss things like Fellini films or Shaw's Back to Methuselah.
When I became an adult, we could finally relate to each other and would spend a long time talking to each other about all sorts of topics. He liked to say that he loved me when I was a child, but when I was a man, I became his friend… and I stayed his friend through everything. Even at the worst times when his dementia made him lash out, I tried to be there for him.
For years, we would e-mail each other articles and talk about them. We usually stayed away from politics, which we didn't always see eye-to-eye on, but every time I came across something I thought he would like involving film or music or literature, I would send it to him and he would always write back with something interesting to say about it. I still come across those articles and I think for a moment that I want him to know about the lost film that has just been discovered or the new archaeological dig unearthing something amazing about ancient Rome, and I realize that I can't do that anymore.
That's when I really get sad, because I never knew anyone who wanted to learn as much as my father. All he wanted to do was learn new things. You could say film or literature or music or World War II was his passion, but his true passion was learning. And I loved to help him learn because his joy of learning was one he shared with me. I can't do that anymore.
But that is something I could have said at any time over the last year and a half. Even though he died last week, in many ways, he died over a year ago when his dementia started getting bad. The man who loved to learn couldn't learn anymore. That's really when I lost my father. Not last Sunday.
The last time I saw him, he told me how much he loved me, and the last time I spoke to him on the phone, about a week before he died, he did the same thing. It is the one thing I could never, ever doubt about him, his love for me.
Edited to add a photo of him on his first trip to America in 1959.